The majority of Europe's best infinity pools happen to be in Greece. With their typically white washed walls, glorious sea views and intimate, boutique feel, these Grecian hotels are tough to beat. Their infinity pools, which are often private, will typically look out from up high across a hazy blue sea: perfect for relaxing and cooling off with a view that stretches out for miles. The other hotels we have chosen come from various superb locations across Europe and their pools have equally outstanding views, either of mountains or of beautiful, rocky coastal stretches.
Hotel Villa Honegg, Switzerland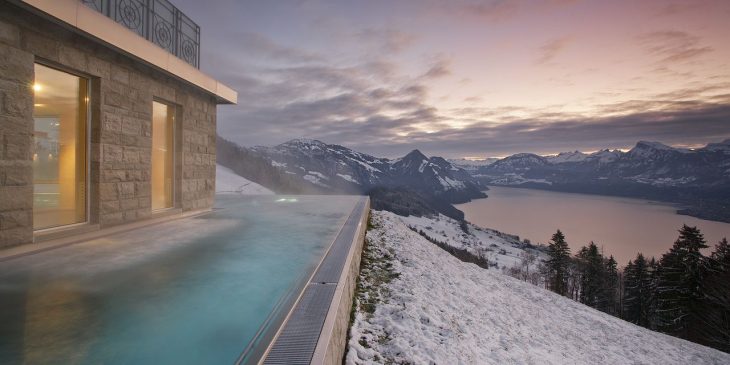 Photograph by Hotel Villa Honegg
The infinity pool at Hotel Villa Honegg on mount Burgenstock in Switzerland is located in the hotel's spa; a free service for guests that offers two pools – one indoor and one outdoor. The outdoor pool is heated to 34 degrees and offers breathtaking panoramic views of the valley below.
Katikies Hotel, Greece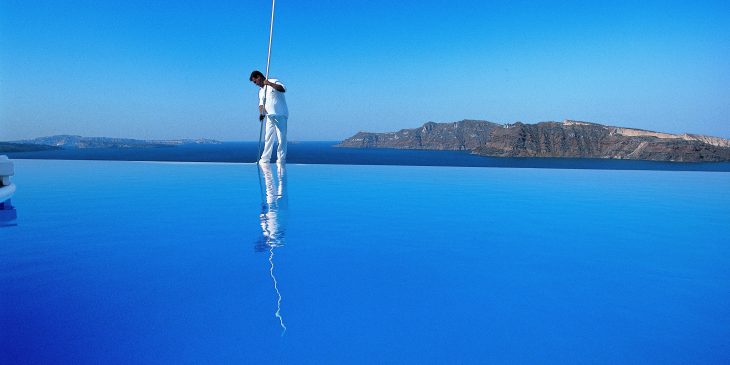 Photograph by Katikies The Hotel
As one of many gorgeous hotels located on Santorini's luxurious shores, Katikies Hotel is a vision of white washed walls set against a rich blue sea and sky. The infinity pool has its very own bar and is one of three pools nestled in the boutique hotel, with beautiful views over the Caldera basin and the Aegean Sea.
Lefay Resort, Italy
Photograph by Sim Spinkel
The eco-sustainable Lefay Resort and Spa offers a bright and colourful space complete with two restaurants, a luxurious spa and an unbeatable infinity pool which looks out over stunning views of Lake Garda.
Dionysos Hotel, Turkey

Photograph by alljengi, Flickr
Dionysos Hotel in Turkey offers a perfectly quiet retreat in a beautiful location. The infinity pool is perched up on a hillside high above the bay of Kumbuluk and looks out to glorious views of the horizon.
Perivolas Luxury Hotel, Greece
Photograph by Perivolas Luxury Hotel
Perivolas Hotel is located in Oia on the Greek island of Santorini. The boutique hotel has been featured on the cover of Conde Nast Traveller a number of times and has an exquisite infinity pool that appears to blend seamlessly with the ocean beyond.
Hotel Caruso, Italy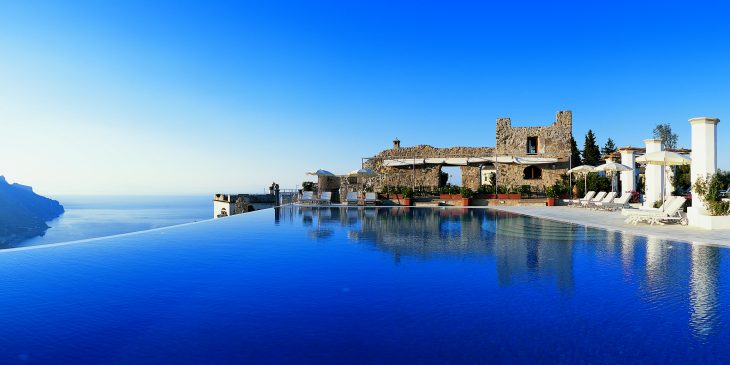 Photograph by Hotel Caruso Belvedere
The infinity pool at Hotel Caruso is nestled right on top of a cliff and is surrounded by the stunning architecture of the restored 11th century palace. The edge of the pool blends seamlessly with the sea and the sky and crates a beautiful vista looking out across the Amalfi Coast.
Elounda Gulf Villas and Suites, Greece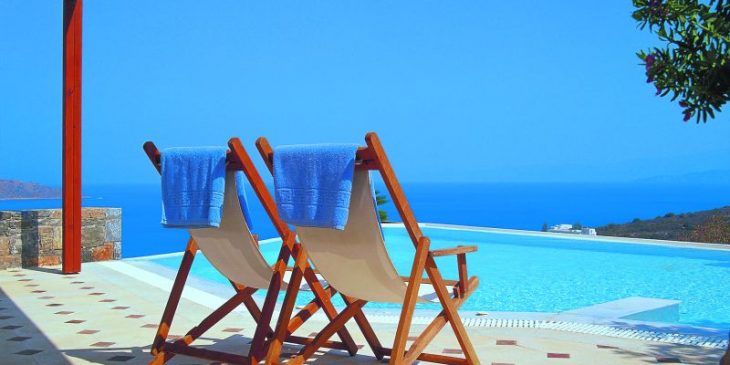 Photograph by Elounda Gulf Villas & Suites
The winner of Greece's Leading Villa Award offers an outdoor pool complete with bar and Jacuzzi. This is the perfect place for secluded relaxation with uninterrupted views of the Mediterranean.
Cavo Tagoo, Greece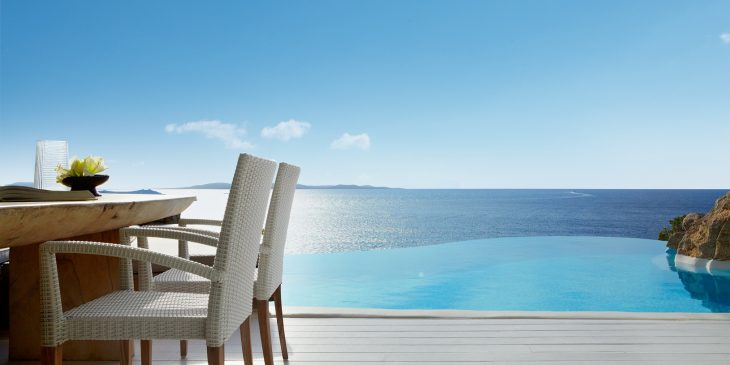 Photograph by Cavo Tagoo Hotel
Stay in one of the rooms or suites at Cavo Tagoo with its own pool and be spoiled with uninterrupted views of the Aegean. The hotel's main infinity pool also has great views, both of the sea and of Mykonos town, where the hotel is situated. The hotel has a fully equipped spa and has a particularly modern Grecian, boutique feel.
The Cambrian Adelboden, Switzerland
Photograph by The Cambrian Adelboden Hotel & Spa
In the winter, the outdoor infinity pool at the Cambrian Adelboden in Switzerland looks out at snowy mountain tops and is only minutes from the ski resort in Adelboden.