Here we take a look at ten great hotels and resorts for the whole family, catering for all kinds of luxury; whether that's having the kids safely taken care of so you can have some peace and quiet, or once in a lifetime adventures you can enjoy all together.

Lake Manyara Serena Lodge, Tanzania
Photograph by Lake Manyara Serena Safari Lodge
This luxury safari lodge offers much in the way of catering for younger children. Adjoining rooms can be arranged and cots can be provided; as can a babysitting service. High-chairs and children's meals are easily taken care of and in terms of activities and entertainment, make the most of Tanzania's beautiful Lake Manyara National Park with special family game drives in children-friendly vehicles. There are also plenty of talks on wildlife from expert guides, boating trips, guided walks, bird spotting adventures and local cultural tours.
Photograph by Sheraton Nha Trang Hotel & Spa
Here at Sheraton Nha Trang, an 'SPG' Kids Program, run by all Starwood Group hotels, takes care of children's meals and differing meal times. There is also an Adventure Club to keep active children entertained, which is supervised by expert staff and where there is an abundance of toys, cartoon books, movies and more for kids aged 4-12. Kids yoga and tai chi classes are also on offer at the resort, as well as arts and crafts activities for the more creative.
Lily Beach Resort and Spa, Maldives
Photograph by KAZ2.0, Flickr
Lily Beach Resort and Spa has an exciting array of watersports on offer for all the family, including catamaran sailing, banana boat rides, windsurfing and wake boarding; as well as snorkelling safaris, big game fishing, tennis and table tennis. The resort also has its own dive centre for older kids and the excellent Turtles' Kid's Club runs programmes throughout the day for activity seeking young ones.
 One&Only Resort Reethi Rah, Thailand
Photograph by Sarah_Ackerman, Flickr
One&Only have a special 'KidsOnly' programme as well as catering for older children with teen activities for 12-17 year olds. Leaving you to your own down-time, kids enjoy their own section of the resort with their own dining facilities, a clubhouse and a swimming pool. The programmes include activities such as treasure hunts, beach volleyball and football.
Conrad Maldives Rengali Island, Maldives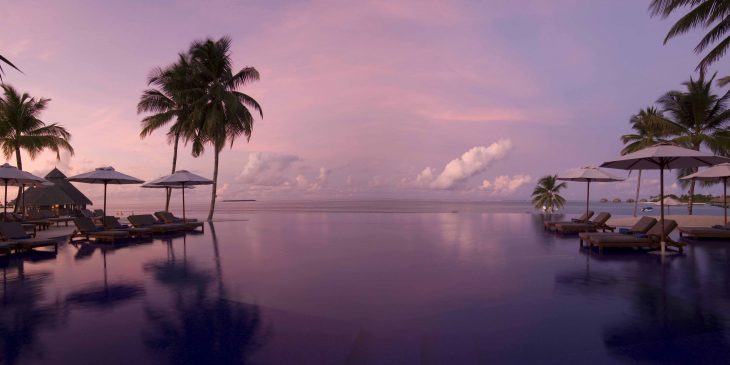 Photograph by Conrad Maldives Rengali Island Hotel
At Conrad Rengali Island you will find family activities as well as special kid's activities. Myriad water-sports are on offer but one of the most exciting activities here is that kids over the age of 5 can dive to the manta dive site. There is also an open air cinema and a children's spa, called the Ice Cream Spa, which encourages children to unwind with unique spa therapies.
Photograph by Nigel Wilson, Flickr
Sri Lanka's fabulous Kandalama Hotel offers a babysitting service, children's menus and has a playground for under 12s. But that's just the beginning. You can arrange spectacular hot air balloon trips over the Kandamala lake and surrounding landscape, which includes the Sigiriya rock fortress, the eighth wonder of the world. Also on offer are sports like tennis, boat trips, trekking, horse rides and even elephant treks.
The Cambrian Adelboden, Switzerland
Photograph by The Cambrian Adelboden
Stay in The Cambrian Adelboden's luxurious family suite and enjoy Adelboden's family friendly resort, which offers children's programmes, family ski passes and ski school for kids. Don't forget to relax in the stunning infinity pool, perfect after a hard day's work on the slopes.
Desert Island Resort, United Arab Emirates
Photograph by bettyx1138, Flickr
Desert Island Resort in the United Arab Emirates not only has a name that promises pirates and treasure chests, but it also offers archery lessons, kayaking, nature walks and wildlife drives. The resort has an active kids club and a teen club too, making it great for all the family and for all ages.
Photograph by Mana Island Resort & Spa
At the kid's club at Mana Island Resort in Fiji, children get to experience a slice of Fijan culture with activities ranging from dance, nature walks and traditional games. On the island's Environment Day, kids are encouraged to take part in planting trees and new baby coral, helping them learn about the importance of sustainable tourism and their responsibility to our environment. Toddlers are also catered for, with a creche centre for under 3s.
Four Seasons Resort Maui at Wailea, Hawaii
Photograph by Jim Bahn, Flickr
Four Seasons Maui is so well prepared for family arrivals it has a special blog called Have Family Will Travel, which covers all sort of useful information ranging from recipes to recommended itineraries and activity ideas. They ask for the names of your children before you arrive so they can prepare a welcome amenity, stocking the room with child sized bath robes and children's and baby toiletries. Activities ranging from snorkelling to croquet and Nintendo to board games are right on your doorstep. For those with very young children, a babysitting service is available and rooms are baby-proofed.