In the world of luxury hotels, it's hard not to find a little romance. Whatever the occasion, here we pick our top twelve (because ten wasn't enough) most romantic destinations, from boutique Santorini hide-aways to beach front island retreats. We hope you will find one that matches up.

Lefay Resort and Spa, Italy
Photograph by Lefay Resort and Spa
This gorgeous little resort is nestled high on the shores of Italy's Lake Garda, not far from the village of Gargnano. Surrounded by olive groves and lemon trees, the wonderfully secluded retreat makes for the perfect escape from the hustle and bustle of everyday life.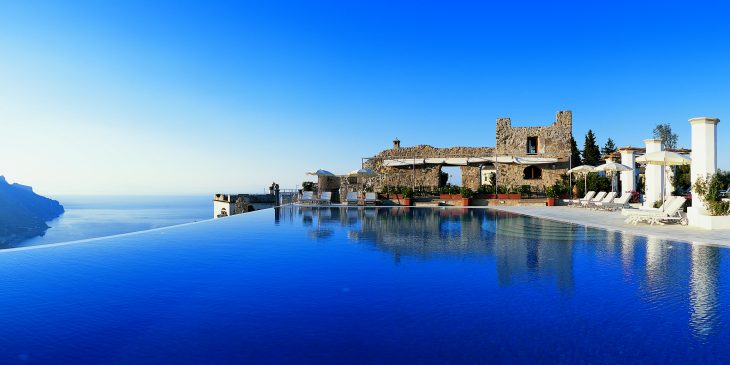 Photograph by Hotel Caruso Belvedere
This former 11th century palace looks over stunning views of the Amalfi Coast. The suites have a grand old Mediterranean glamour and you can wile away the hours meandering through the sun-drenched terraced gardens.
Photograph by Richard Moross, Flickr
Their one bedroom Pool Villas each have their own private infinity pools and cabanas, which look out over the Indian Ocean. Each is beautifully crafted to mould effortlessly with the surrounding natural environment, yet the place still has an otherworldly appearance, which makes it wonderfully easy to drift off and into your own.
Fregate Island Private, Seychelles
Photograph by Fregate Island Private
You can't get more secluded than Fregate Island Private. Self-contained on its own private island, their one-bedroom villas are perfect for those who really want to escape in real luxury. Each have glorious views of the ocean, private pools, jacuzzis and a butler service so you don't have to lift a finger.
Photograph by The Sarojin
Set within plenty of greenery and magical twinkling lights, this boutique beach resort is made for romance. The Pool Residences each have their own infinity pool and combine blissful living space with privacy.
Photograph by Velassaru
Velassaru provides the classic blue sea, white sand romantic idyll. Their water villas are the best option: detached and rising out of the water on stilts, they are tailor-made for complete seclusion. Some also come with their own infinity pools.
Photograph by W Retreat & Spa
W Retreat Maldives is an achingly cool tropical paradise, where the majority of suites are perched above the lagoon and have their own plunge pools. The ones that aren't have their own private stretch of pristine beach. This is the perfect place for romantic seclusion in style.
Photograph by …
Tokoriki has a whole stretch of private luxury beach bures, which combine Fijan style with luxury island living. Facing West and with the beach right on your doorstep, they are perfect for long walks along the beach at sunset.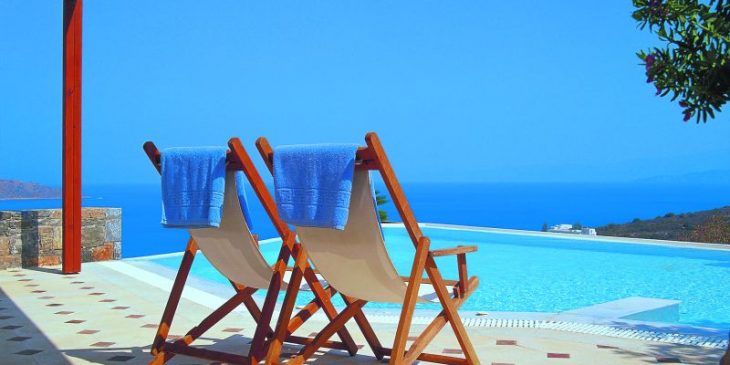 Photograph by Elounda Gulf Villas
At Elounda Gulf Villas you can choose between various suites or villas. All are high up on the cliff and look down over the gorgeous expanse of water. The place is beautiful: the décor is elegant, the infinity pools are magical and the view of the Gulf of Elounda is exceptional. Perfect for relaxing in breath-taking beauty.
Jade Mountain Resort, St. Lucia
Photograph by Jade Mountian Resort
With technology embargoed within its walls, Jade Mountain Resort aims for total escapism. The rooms are called infinity pool sanctuaries, and each have a uniquely designed pool, many with coloured tiles, which look out over the bay towards the Pitons. All are completely private and some even have panoramic views.
Photograph by …
At this boutique Santorini hotel, each suite is styled individually and all have volcano views. The décor is warmly lit making the stone walls feel wonderfully cosy, and all come with their own indoor heated Jacuzzi pools.